AROMA STORE
Category: Furniture Home Decor And Furnishing
No. of Franchise Outlets: Less than 10
Area Req: 50 - 500 Sq.ft
Investment: Rs. 5lac - Rs. 10lac
BECOME AROMA STORE FRANCHISEE

A Unique Business Concept To Stay Secure Forever

For you, Our Business Model is So Profitable and Hassle Free.

Take your future to the next level with us.

Guide To Start And Running Our Store.

A low cost business opportunity can yield high profits.

Flexible plans to suite every market and investment profile.

The franchise term doesn't need to be renewed and is for lifetime
Aroma Store Company Owned Outlets
We would be glad to partner with you, if you own a commercial or commercially converted/convertible retail space on a rental/revenue share basis with the following specifications:
1) Retail Space Area: 50 - 500 Sqft ( Shopping Malls, Hyper Market, Shop in Shop, Inside of Star Hotels or Resorts, Market Complex & Any Commercial Area )
2) Minimum Frontage: 8-15 running feet
3) Ample Parking space
If you meet our specifications mentioned above, please write to us with the following (mandatory) details and we?ll get back to you soon.
a. Name(s) of one or all the owners of the retail space.
b. Postal Residential Address, Contact Numbers and email id of the owner/owners
c. Postal Address of the Retail Space
d. Retail Space Area (square feet)
e. Frontage of the Retail Space
f. Photographs of your location


INVESTMENT DETAILS OF EXCLUSIVE AROMA STORE
PAPER WORK FOR STORE OPENING : 10,000-20,000
SECURITY DEPOSIT FOR SHOP : 50,000-1,00000
INTERIOR AND FURNITURE : 2,00000-5,00000
SIGNAGE & BRANDING : 10,000-50,000
POS & SOFTWARE : 50,000-60,000 ( Billing Machine + All In One Desktop + Bar Code Scanner + Software & More...)
PRODUCTS : 3,00000-5,00000
RUNNING CAPITAL : 2,00000-3,00000
FRANCHISE FEES : 25,000 ( ONE TIME )
ROYALTY FEES : WE'RE NOT CHARGING ROYALTY FEES
TOTAL INVESTMENTS : 8,50,000 & Above ( Approx )
INVESTMENT DETAILS OF SIS AROMA STORE
PAPER WORK FOR STORE OPENING : 10,000-20,000
SECURITY DEPOSIT FOR SHOP : 10,000-1,00000
INTERIOR AND FURNITURE : 50,000-1,00000
SIGNAGE & BRANDING : 10,000-30,000
POS & SOFTWARE : 50,000-60,000 ( Billing Machine + All In One Desktop + Bar Code Scanner + Software & More...)
PRODUCTS :1,00000-3,00000
RUNNING CAPITAL :1,00000-2,00000
FRANCHISE FEES : 5,000 ( ONE TIME )
ROYALTY FEES : WE'RE NOT CHARGING ROYALTY FEES
TOTAL INVESTMENTS : 3,00,000 & Above ( Approx )
Attractive business model
It is our common goal to make your business a success and we have succeeded in satisfying hundreds of franchisees around the world. The sales performance of each store depends on market conditions, location, size and store management, which is why we cannot display any globally applicable performance (Profit & Loss) figures.
Proven retail concept
As a franchisee you are an independent entrepreneur in charge of your own business; i.e. you are responsible for performance, assortment, store appearance and staff.
We will be your sparring partner, share our experience and offer support in day-to-day operations through in-storecoaching, e-learning and guidelines. We will also assist you with marketing support, mystery shopping reportingand business administration.
A profitable business is of course the proof of a successful concept but our research shows that the franchise relationship is the most critical determinant of success in franchising. We know how important it is for us to be a trustworthy partner with a reliable set-up and a bright future.
If we decide to start working together, we will deliver a turn-key solution and assist you in every step of the process,from location scouting to the store opening event.
Products with mass appealPut two Aroma Store customers in the same room and they will immediately connect and have something to talk about; stories to share. We know that the loyalty of our consumers is second to none. We have millions of both Aroma club members and Facebook friends.
Market leading position
We have established a well-defined position within the affordable luxury segment; a segment which constitutes a large share of the global Aroma & Home Decor market. What does this mean? Well, it means that the market for our kind of products is very large and getting even bigger as consumers increasingly prefer to buy products.
We are the market leaders within our segment and hold a position as one of the India's largest Aromatherapy brands at retail value.
Appealing store design
Being part of our family also means presenting and selling Aroma Store products in an appropriate and attractiveenvironment. The store environment is an important part of the customer experience and determines whether thecustomer has a positive perception of Aroma Store products.
In today's competitive environment, it is increasingly important for global companies to have 'one face' around theNation.Our store concept aims at ensuring that the Aroma Store brand is effectively and uniformly exposed to consumers across all markets.
Global distribution network
Aroma Store is headquartered in Hyderabad, India. Since we opened our first concept store in 2012, we now have more than 09 concept stores and we are still growing! You will be part of a large family with colleagues in more than10 Cities in India. Most of our concept stores are operated by franchisees and we do not distinguish between owned &operated stores and stores driven by franchisees in terms of service,layout or assortment. We are all alike.
As a Aroma Store franchisee, you are in business for yourself, but never by yourself. Aroma Store will support youthroughout your career as a Aroma Store franchisee.We will assist you in every step of the way: First, we help you find the location for your new Aroma Store and then we prepare the site for retailing. Then we help you design and install the store with inspiring fittings, fixtures andmerchandising. Finally, you open the doors and start operating the business and we provide the on-going support.
Our Industry
Our products play a vital part of the franchise package. We always seek to market attractive designs that appeal to our target audience. our products are made for our customers to create and combine – at affordable prices. We offer our franchisees to carry a full assortment, but the mix will vary depending on market maturity.
We offer a large selection of Aroma Diffusers, Aroma Vaporizer, Electrical Aroma Lamp, Candle Oil Burner, Essential Oil, Car Fragrances, Incence Sticks, including Home Decor, Personal Care Products. Candles, Fragrances.
Our range of products covers a great variety of materials and designs to express your life style.
Our Aromatherapy concept allows you to combine your favourite Fragrances with your favourite diffuser,creating your mood, You can also choose from a range of unique essential oils and aroma oils matching any occasion.
We operate with branded and non-branded retail formats. The branded retail formats consist of concept stores,shop-in-shops and dealers.
Aroma Concept store
A concept store is a full-blown Aroma Store, which carries a complete assortment of Aroma Store products, hasa branded Aroma Store front and is furnished only with Aroma Store fittings and displays.
Shop-in-shop
A shop-in-shop is a clearly defined space in a store or department store dedicated to Aroma Store. The shop-in-shop has Aroma Store fittings and displays and carries a wide assortment of Aroma Store products.The shop-in-shop will typically look very much like a concept store on the inside (except smaller), generally without the Aroma Store branded outlet front.
Aroma Store Gold Dealer
Aroma Store dealers are multi-brand retailers with a strong Aroma Store profile. Gold dealers receive some but not all of the same benefits as concept stores and shop-in-shops.
Silver and White Dealer
The non-branded retail formats consist of silver and white dealers. Silver dealers are multibrand retailers carrying amedium assortment. Silver dealers usually have Aroma Store branded fittings in the store, but to a lesser extent thangold dealers. White dealers are multi-brand retailers carrying a limited assortment.
Aroma Store always owns the rights to the brand and store concept.
Aim's
Aroma Store concept aims to ensure that the Aroma Store brand is effectively and uniformly exposed to consumers across all global markets. When designing the store, our store designers will therefore create a Aroma Store layout for you to ensure a professional expression and optimised planning.
An easily recognisable facade creates visibility and contributes to increasing awareness of the Aromatherapy.Aroma Store has a defined open and inviting facade concept that ensures recognition across the stores, and a window concept to attract customers and inspire them with beautiful products and inspirational window decorations.
We focus on making our stores easy to navigate in with open browsing for the customer and functional layouts. We are making our products accessible to the customers by using beautiful displays developed to enhance the Aroma Store Products and inspire the customers. Also, attractive elements such as music, images and Aroma Therapy Videos are part of making the customer feel welcome and giving them a great experience in Aroma Stre for them to come back.
All furniture in Aroma Store has been customised and produced for Aroma Store by experienced production partnersensuring well tested and continuously improved high-quality furniture to ensure resistance in daily use and wear andtear for many years.
All stores are built according to the same building specifications to maintain quality and consistency in Aroma Stores globally, but adapted to local legal and customary conditions.
Our Support
When you become a franchisee, you immediately get access to our support functions. Aroma Store has created an organisation with diverse competencies, which enables us to provide first-class support to our franchisees.
You will receive all the information you need to operate a Aroma Store. Our manuals and training modules coverthe whole concept: store operation, introduction and training tools for store staff, financial information, merchandising and more.
Our ambition is to provide our franchisees with high quality support to enable you to focus on the customer experienceand delivering outstanding customer service.
Aroma Store offers the following support areas:
Operational support
We have a competent team of experienced Retail Operation Managers, who will visit your store to give you ideas for how to improve your retail operation.
The Retail Operation Manager is your sparring partner. He/she will visit your store, challenge you and help you set achievable goals. When you are faced with budget deviations or staff issues, he/she is your go-to person, ready to assist you with creating staff plans and budgets, in short, helping you to ensure a smooth operation.
We also have a Retail Management Guide, providing a detailed guide to running a Aroma Store concept store. The guide contains sales and service guidelines, staff management, finance and performance management, inventory, marketing and merchandising, standards and routines.
Visual Merchandising
In the store opening process, our Visual Merchandisers will help you set up the store, so the products look as appealing as possible. Our Visual Merchandisers will visit your store on a regular basis to help you present the products and the store in the best way possible in order to boost sales.
Our Visual Merchandising team also develops extensive visual guidelines to support each product campaign (e.g. Discount, Offer,Cross Promotion, Advatisement etc.) and other in-store activities.
Training Support
The Aroma Store training concept offers a wide range of training tools and modules designed to ensure an effective approach in our stores around the world. This way, all Aroma Store representatives are always well equipped to help our customers and provide the best possible service while increasing the conversion rate; we call it the Aroma Store way of selling.
Training is done as regional sessions for store managers as well as in-store training. We have also invested in an extensive e-learning system, POS cloud Software containing all our training materials.
We want to deliver outstanding customer service provided by people who share a passion for Aroma Store,loyalty and belief in Aroma Store's brand values.
POS Materials, Software, Uniforms & Others
We develop window displays, pos system , in-store materials (e.g. Desktop, Barcode Scanner, Card Swipe Machine, Emi Machine, Aroma Store Cloud ERP Software) and packaging (e.g. branded bags, boxes and cloths) to ensure that our customers get a holistic experience when shopping in our stores.
We have also "Aroma Store Gift Voucher" which can be offered to customers and corporate sector. Finally, we have a full uniform assortment, which includes shirts, cardigans, skirts, dresses, scarves and gloves etc. for women, and suits, shirts, pullovers and ties for men.
Marketing Materials
Marketing at Aroma Store is all about creating awareness, building brand equity, influencing sales and obtaining loyalty by defining and understanding our target consumer and their consumption habits and motivation. Based on this knowledge we develop marketing vehicles and communication channels encompassing all consumer touch points via:
Marketing campaigns
Digital communication
Social media
Brand analysis, In-store material & Awarness Program
The above is tailor-made to cater to customer needs and thus benefiting your sales. In short, at Aroma Store we go to great lengths in our marketing support to our franchisees.
Aroma Club
The Aroma Club is for our most dedicated customers. The Aroma Club helps you as store owner to retain your customers by offering them a Aroma Club membership. Through a free Club membership, customers get: Exclusive access to Aroma Store Magazine with inspiration, tips & trends The possibility to share their Aroma Store wish list and keep track of their Products. Information from Aroma Store on a regular basis Much more to come …
The Aroma Club has millions of members and the number is growing rapidly.
BECOMING A FRANCHISEE
The Aroma Store franchise system is developed and managed by Narnia Health Care. The franchisee enters into an agreement with Aroma Store, and in operative matters mainly deals with the local Aroma Store Retail Management.
It is important for us that you make the right choice and that potential candidates possess the below qualitiesin order to be approved as a Aroma Store franchisee. For more specific information about initial investments, please contact us.
Aroma Store Franchisee Qualities:
This is not done to control how our franchisees run their stores: On the contrary, we do this to motivate staff

Retail experience with good results and proven track record
Entrepreneurial mindset
A passion for sales and for offering excellent customer service
An interest in design and an eye for details
Energy, perseverance and optimism
A willingness to personally devote full-time efforts to daily operations of Aroma Store
Eagerness to learn
Appreciation of the Aroma Store brand
Commitment to the Aroma Store franchising system and cooperation within the whole chain Solid financial foundation
For more specific information about initial investments, please contact us. @ +91 933 865 1806
AROMA STORE OPENING PROCESS
Once you have been approved as a Aroma Store franchisee, we will help you build your store. First step is to find theright location for your store. Our stores are situated in highly frequented locations on high streets and in shopping malls. We prefer to be in the vicinity of well-known local or international brands within the affordable segment and with high customer footfall.
We have a long list of places we want to be, but you are more than welcome to submit your suggestion and we can examine if it fits our distribution plan. The store itself should have a sales area of at least 100 sqft and normally up to 300 sqft and have office and storage room as well. The store should have a wide facade with space for an entrance,signage and at least one window display. We prefer to work with rectangular shaped sales areas, and single level stores are recommended. Ceiling height should be at least of 2,250 mm.
When we have found the right location, we will enter the design phase, where we take responsibility for designing the store in cooperation with you. We have a great team in place to assist you in finding the optimal solution.
Then we decorate the store with inspiring fittings and exciting products. When designing your store, our designers willcreate a Aroma Store profile for you to ensure a professional expression. The store layout and furniture selection willreflect our analyses as well as best practices to help you create the best possible traffic flow, optimal usage of the salesfloor and a great customer experience. We have designed a modular system, which can be customised to fit different store layouts.
PROFITS & INITIAL INVESTMENT
PROFITS
The sales potential is to a large extent determined by the specific location and the size of the selling space.We will offer our support in all operational aspects as well as financial and merchandising planning to help youimprove your performance. The overall attractiveness of the business case is primarily driven by sales, stock turnover, staff and lease costs.
INITIAL INVESTMENT
As a Aroma Store franchisee you will face some initial investment to get the store up and running. The start-up cost will vary depending on the size of the store and the necessary fittings. Additional investments in initial sign-on fee, legal expenses, opening stock etc. could also be required. Also you need to ensure that you haveadequate operating capital.In some markets we have specific financing agreements with partner banks, which know our brand very well and will provide attractive terms.
AROMA STORE Investment Details
Commenced Dates
Date Commenced Operations
2007
Date Commenced Frachising / Distribution
2012
Franchise Details
Units
Area
Investment
Franchise/Brand Fee
Royalty/Commission
Store Wise
Rs. 5lac - 10lac
5000
0
Master / Multi Units
Area
Investment
Unit/Brand Fee
Master/Brand Fee
Royalty/Commission
Country Wise
Rs. 5lac - 10lac
5000
25000
0
Region Wise
Rs. 10 K - 50 K
State Wise
Rs. 10 K - 50 K
City Wise
Rs. 10 K - 50 K
Trade Partners Detail (Dealers, Distributors, MBOs, Retailers)
Types of Channels
Investment
Margin
Area Requirement
Retailer
Rs. 5lac - 10lac
40
50 - 500 Sq.Ft.
Distributor
Rs. 50 K - 2lac
25
100 - 500 Sq.ft.
Expansion Locations
North
Haryana, Himachal Pradesh, New Delhi, Punjab, Uttaranchal, Uttar Pradesh
South
Andhra Pradesh, Karnataka, Kerala, Tamil Nadu
East
Assam, Manipur, Meghalaya, Mizoram, Nagaland, Orissa, Sikkim, Tripura, West Bengal
West
Goa, Gujarat, Maharashtra, Rajasthan
Center
Bihar, Chhattisgarh, Jharkhand, Madhya Pradesh
Union Territories
Chandigarh, Lakshadweep, Pondicherry
Franchise Details (Optional)
Want to expand
International, Nationwide
Exclusive territorial rights to a unit
Yes
Performance guarantee to unit franchisee
Yes
Anticipated percentage return on investment
40
Likely pay back period of capital for a unit franchise
Other investment requirements
No
AROMA STORE Property Details
Type of property required for this franchise opportunity
Commercial
Floor area requirement
50 - 500 Sq.ft . (1 Sq Meter = 10.76 Sq Ft.)
Preferred location of unit franchised outlet
Shopping Malls, Star Hotels , Market Complex, Hyper Markets And Other Commercial Area
AROMA STORE Training Details
Detailed operating manuals for franchisees
Yes
Where is franchisee training provided?
On Site training
Is field assistance available for franchisee?
Yes
Will someone from Head Office provides assistance to franchisee in opening the franchise?
Yes
What IT systems do you presently have that will be included in the franchise?
Yes
AROMA STORE Agreement & Term Details
Do you have a standard franchise agreement?
Yes
How long is the franchise term for?
Life time
Is the term renewable?
Yes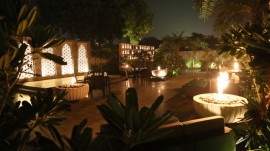 Nov, 08 2016
Courtyard by Marriott Agra launches...
Anise is said to be a specialty restaurant, offering a selection of authentic Awadhi and Northwest frontier dishes such as kebabs,
Lite Bite to flush out Rs 30 crore...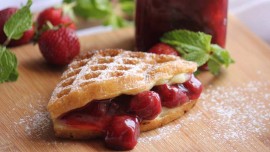 How this Mumbai based startup is...
Intrigued by the concept of waffles on the go while working in Philippines, Shrey decided to take it as a business opportunity to start
This startup caters to baby-mother...
Dec, 02 2016
Commercial real estate bounced back with...